You have probably heard of slot tournaments, poker tournaments and blackjack tournaments. But are you aware that many top Online Casinos also are offering roulette tournaments and leaderboards?
This guide will serve as your full introduction to competitive roulette. We will tell you about the types of events and how they work along with tips for success.
As you read, you also will discover trusted Online Casinos offering US players the chance to participate in roulette tournaments and leaderboards. Let's get started!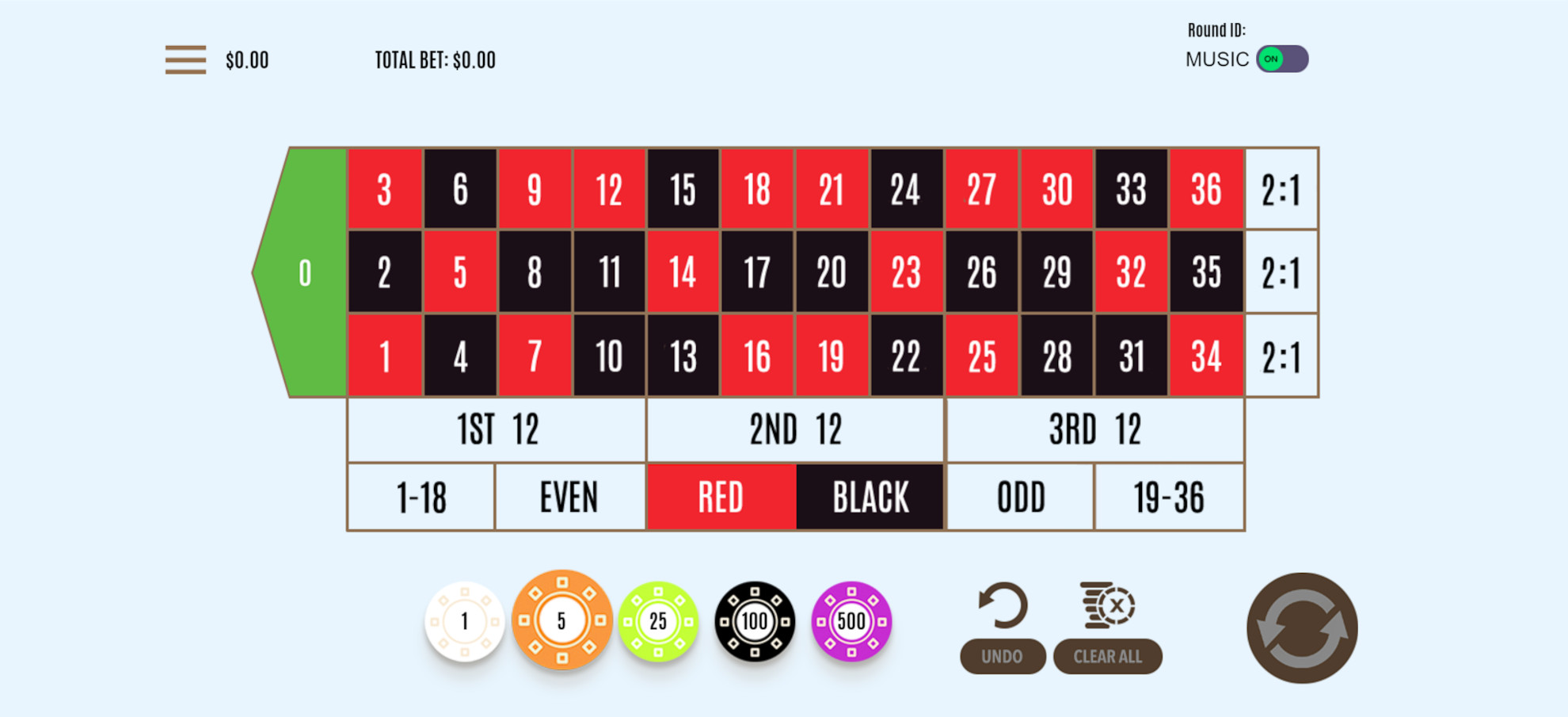 What are Roulette Tournaments and Leaderboards?
Roulette tournaments and leaderboards are usually lumped together because they are both forms of competitive roulette.
That said, we feel they are fairly distinct because what you stake as well as how you win are very different.
How Roulette Tournaments Work
Roulette tournaments can have a few different formats, similar to other types of casino tournaments. Elimination tournaments are popular, and work much as they do for blackjack and other games.
Players are assigned to their initial tables at the start of the tournament, and each receives an identical number of chips or credits.
Players at each individual table compete. The player with the most chips or credits when the round ends is the table winner.
All table winners progress to the next level. They are assigned to new tables, and again compete with each other. Those who have the most credits at the end of the round get to proceed again.
How many times this process repeats depends on the format.
During the final round, the finalists all sit at one table and face off. The person with the most credits at the end of the final round is the first place winner for the event, and gets to claim the big prize. Other finalists (and sometimes semi-finalists) may also receive prizes, if that is how the tournament is set up.
There is sometimes an entry fee, and sometimes not. But you do not play with your own money during these types of competitions. You play with the casino's credits.
How Roulette Leaderboards Work
Online Roulette Leaderboards are usually routine events that run on an ongoing daily or weekly schedule rather than as standalone events. Here is how they work.
Go to the leaderboards page at the online casino and check if there are any roulette events you can join. If there are, just click on the button that lets you get started.
Depending on the scheduling, the event could run the rest of the day or week. During that time, spending money betting on roulette will help you earn points.
At the end of the day or week, the person who has the most points and is at the top of the leaderboard will be declared the winner, and receive the first place payout. Sometimes, other players who ranked highly at the end of the event also will receive payouts.
Note that you will be playing with your own money, not credits given to you by the casino. This is a big difference with traditional roulette tournaments.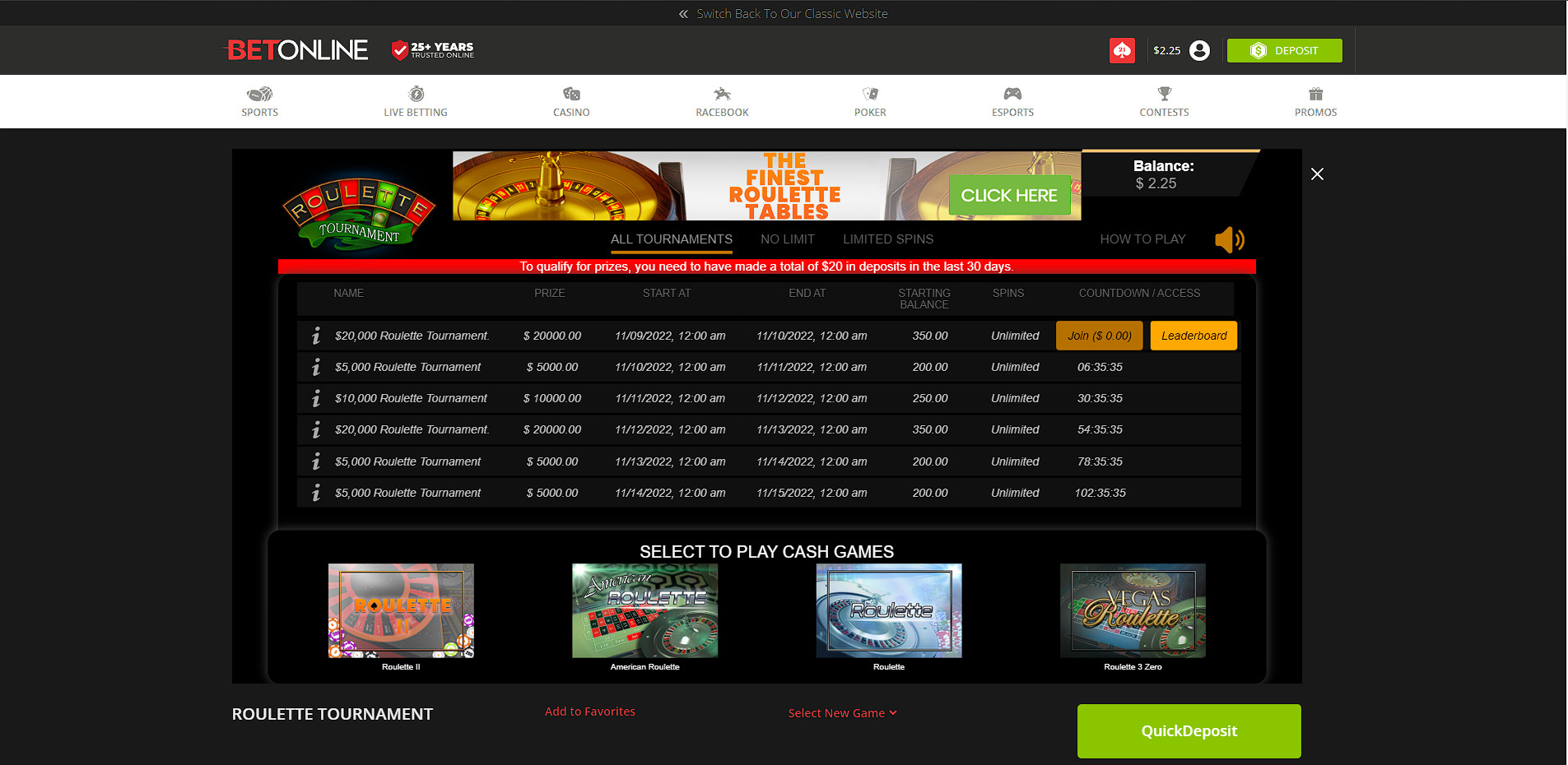 Where to Participate in Roulette Tournaments and Leaderboards Now
BetOnline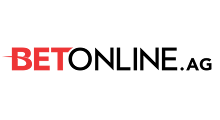 BetOnline is one of the top online casinos and sportsbooks for customers in the USA, and also a premier destination if you are looking for leaderboard contests for roulette.
This site runs what they call the Live Casino Weekly Challenge. As the name indicates, each challenge runs a week. During that time, you can play roulette for points with the aim of getting the most points at the end of the week.
You may participate in the Live Casino Weekly Challenge by playing roulette or blackjack. The top three winners for roulette and for blackjack (six total) get to split the prize pool, which is $1,800. This event is also named the $1,800 Leaderboard Challenge.
That is not the only exciting leaderboard BetOnline offers. You can also join Daily Tournaments with a $1,000,000 Prize Pool every month. That makes the daily prize pool $35,000! These competitions run 24/7 for roulette, blackjack and slots, so there is always action.
BetOnline runs a ton of contests for both casino games and sports betting. So, not surprisingly, they also sometimes run traditional roulette tournaments.
For example, we remember them running a $50,000 roulette tournament that had no entry fee. Competitors were allowed to buy back in if they ran out of free chips for $10 as often as they wanted.
New customers on BetOnline can qualify for a 100% Casino Welcome Bonus on the first three deposits up to $1,000. That's a lot of money to start playing in roulette leaderboard contests!
Wild Casino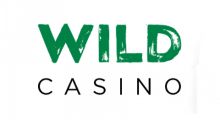 We recommend Wild Casino to gamblers who are searching for flexibility and diversity in payment options and games. As one of BetOnline's sister sites, Wild Casino also runs the same Daily Tournaments with $1,000,000 in Monthly Prizes for roulette, slots and blackjack.
So, you can enjoy the same ongoing competitive roulette fun over at Wild Casino while claiming the $5,000 Sign-up Bonus, $9,000 Bonus on your first crypto deposit, a 10% Weekly Rebate, and a bunch of other bonuses and promotions.
Note that we recommend that you only participate in Daily Tournaments on one site at a time, even if you join multiple sites to claim more than one sets of bonuses. You need to concentrate your play all in one place to rack up the largest amount of points.
Super Slots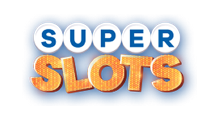 The deal for Super Slots is the same as it is for Wild Casino; it is another of BetOnline's excellent sister sites. As with the other two sites, Super Slots runs identical Daily Tournaments, giving roulette players a chance to compete for part of the $1,000,000 Monthly Prize Pool every day.
Promotions you can grab by joining Super Slots include a $6,000 Welcome Bonus, 400% Crypto Bonus, 10% Weekly Rebate and others.
BitStarz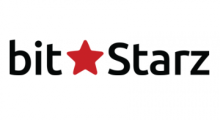 If you want to participate in roulette competitions at a Crypto Casino, try BitStarz. There are a couple of different regular competitions that this site runs that you can participate in by playing anything you want, roulette included.
The first is called "Table Wars." These contests run weekly, with €10,000 up for grabs. Like the other leaderboard competitions we have shared, you play to earn points. The first place winner receives €3,000, and the Top 40 Winners all receive payouts. Not only that, but there are no wagering requirements!
The second competition offered by BitStarz is the "Level Up Adventure." In this contest, you "level up" through a set number of levels as you play any games on the site, roulette included. If you are the first to go through all of the levels for a given Level Up Adventure, then you get a €10,000 Cash Prize. The total prize pool is €50,000, so others who do well in the Level Up Adventure also can get a prize.
BitStarz offers Lucky Roulette, American Roulette, European Roulette (two versions), and French Roulette. You can play any one or combination of these games to participate in the competitions.
BetOnline is the only one of our recommended sites that we currently know for sure runs traditional roulette tournaments sometimes in addition to leaderboard contests. But other sites might as well. You will just have to check periodically!
Why Play in Roulette Tournaments?
The easiest way to explain the benefits of roulette competitions is to break them down for traditional tournaments and leaderboards.
Benefits of Roulette Tournaments
Your risk is zero if there is no entry fee, and low if there is one.
Payouts to winners can be thousands of dollars. Also, there may sometimes be a whole field of winners.
The house edge doesn't have to drag you down. Even if you lose money playing roulette, you might still win money if you lose less than your competitors.
Invitation-only roulette tournaments keep the field of competitors small, boosting your chances of success.
There are fun, strategic elements of play that only show up in a competition against other players, and which are not a part of regular solo roulette.
Benefits of Roulette Leaderboard Contests
As with a tournament, it is possible to win money as a prize playing in a leaderboard event even if you lose money on your bets.
While the money you lose is your own (not casino credits—a difference with traditional tournaments), any money you win through the game is also yours to keep alongside whatever prizes you might qualify for.
If you enjoy playing lots of roulette, participating in a leaderboard just gives you an extra chance to win. There is no reason not to take it.
You can pace yourself as you see fit. If you have the bankroll for it, you can play aggressively in the hopes of winning. If you don't want to do that, that's fine too. Some days or weeks you might still luck out and beat the other players.

How Roulette Tournaments Compare to Regular Roulette
When you play roulette, you are up against a house edge as follows:
Single zero roulette: 2.70%
Double zero roulette: 5.26%
The house edge means that if you play roulette long enough, you will eventually lose all of your money to the house.
When you participate in a roulette tournament where you play with house credits, the house edge will affect you in that it will drain your credits, but none of your own money is on the line. All you can lose is your buy-in.
So, this puts you in a rare situation where your risk is negligible, and the rewards can be great.
When you play in leaderboard competitions, you do risk your own money and lose it at the rate that the house edge determines. But if you win, it might be enough to offset your losses or eclipse them in some cases.
So, there is no better way to maximize the possible rewards of playing roulette than to compete against other players.
How to Participate in Roulette Tournaments Step-by-Step
Open accounts.
Sign up for accounts at online casinos offering roulette leaderboards and tournaments like those we recommended on this page.
Make your deposits and claim your bonuses.
You can make a deposit after you open your account so you have money to play in the leaderboard competitions. You also can snag a welcome bonus to give yourself some extra funds for roulette.
Start playing in events anyone can join.
You should be able to immediately jump into the leaderboard contests if any are open at this point. Just play like you normally would after you hit "join." Your rankings will be updated in real-time as you play.
Become a VIP player.
We suggest you try and join the VIP Program as soon as possible, and make a focused effort to ascend through the tiers. High-status players often receive invitations to closed tournaments as part of their benefits, including roulette tournaments.
If in doubt, ask.
If you have not seen anything about a roulette tournament coming up at any point in the near future, ask the casino staff yourself.
If you missed a notice, they can clue you in and send you an invite (assuming you are eligible).
In situations where there is a roulette tournament scheduled for which you do not qualify, they can tell you what you need to do to be eligible for future events.
Register and pay your fee.
For a traditional tournament, you will usually have to register; if there is a fee, it will be nominal.
Show up, read the rules and play.
After you are all registered and paid, just be there on tournament day! Carefully read all rules and conditions, and start playing when the event begins.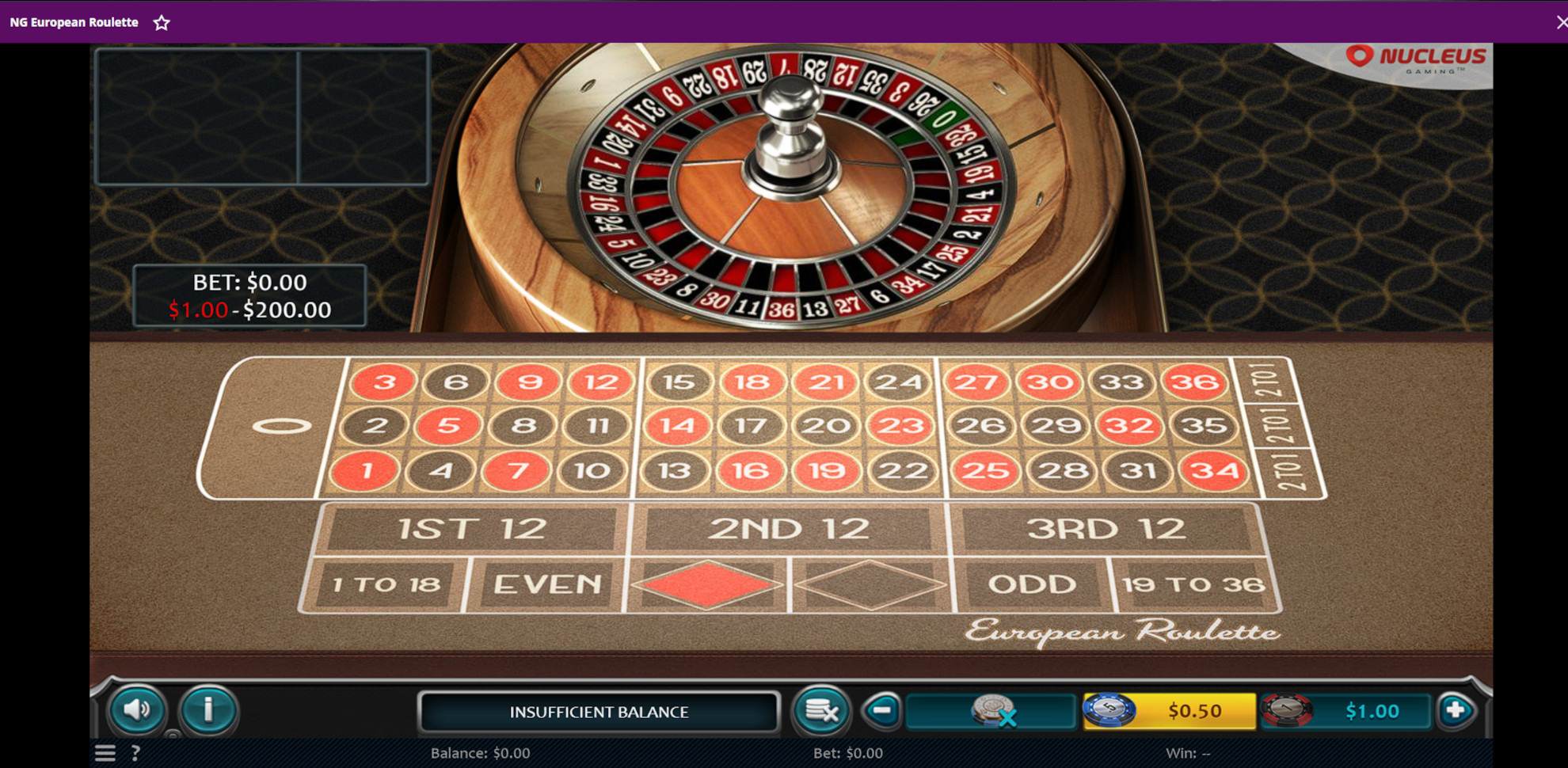 Tips for Success in Online Casino Roulette Tournaments
How can you give yourself the best shot of coming out ahead in a roulette competition? Here are some strategy suggestions focused mainly on tournaments.
Should you take risky inside bets near the start of a tournament, or should you wait? Some players think you should do it right away and try to take a big lead. Then, you will be hard to overtake. But the other school of thought is that you should hold off until you have to catch up with someone, and make outside bets at the start to conserve your bankroll for when you really need it.
Make sure you know not only what your ranking is compared to other players, but also how their remaining chips compare to yours.
As players raise and lower their bet sizes, you may need to do the same in order to keep pace with them. Mimicking the specific bets others place may also sometimes make sense (especially if it is something as simple as "red" or "black"). If they win, you will win. If they lose, so will you, but you will still be keeping pace.
Playing leaderboard roulette with your own cash? If you are allowed to choose a roulette game, pick a single zero game instead of a double zero game. It will help you extend your bankroll.
Compete for Payouts and Prizes in Roulette Tournaments Now
Roulette may be a game of pure chance when you are playing it alone, but when you participate in a tournament, an element of skill can get involved.
Moreover, leaderboards and tournaments allow roulette players a shot at coming out richer even after losing bets at the tables.
Ready to get more out of your roulette experience through competitive play online? Click any of the links in this post to join our recommended online casinos for roulette tournaments and leaderboards.
And Don't Forget to Check These Out As Well