If you enjoy dice games and are in search of something new to play, you will want to check out Rocket Dice. This BGaming game is available at a few of our recommended online casinos, and is simple to learn and a blast to play!
This post is going to introduce you to the rules of play and walk you through how to play Rocket Dice. We will also share some helpful tables and strategies with you so you can get the most out of Rocket Dice. And of course, we will tell you exactly where you can play Rocket Dice online right now!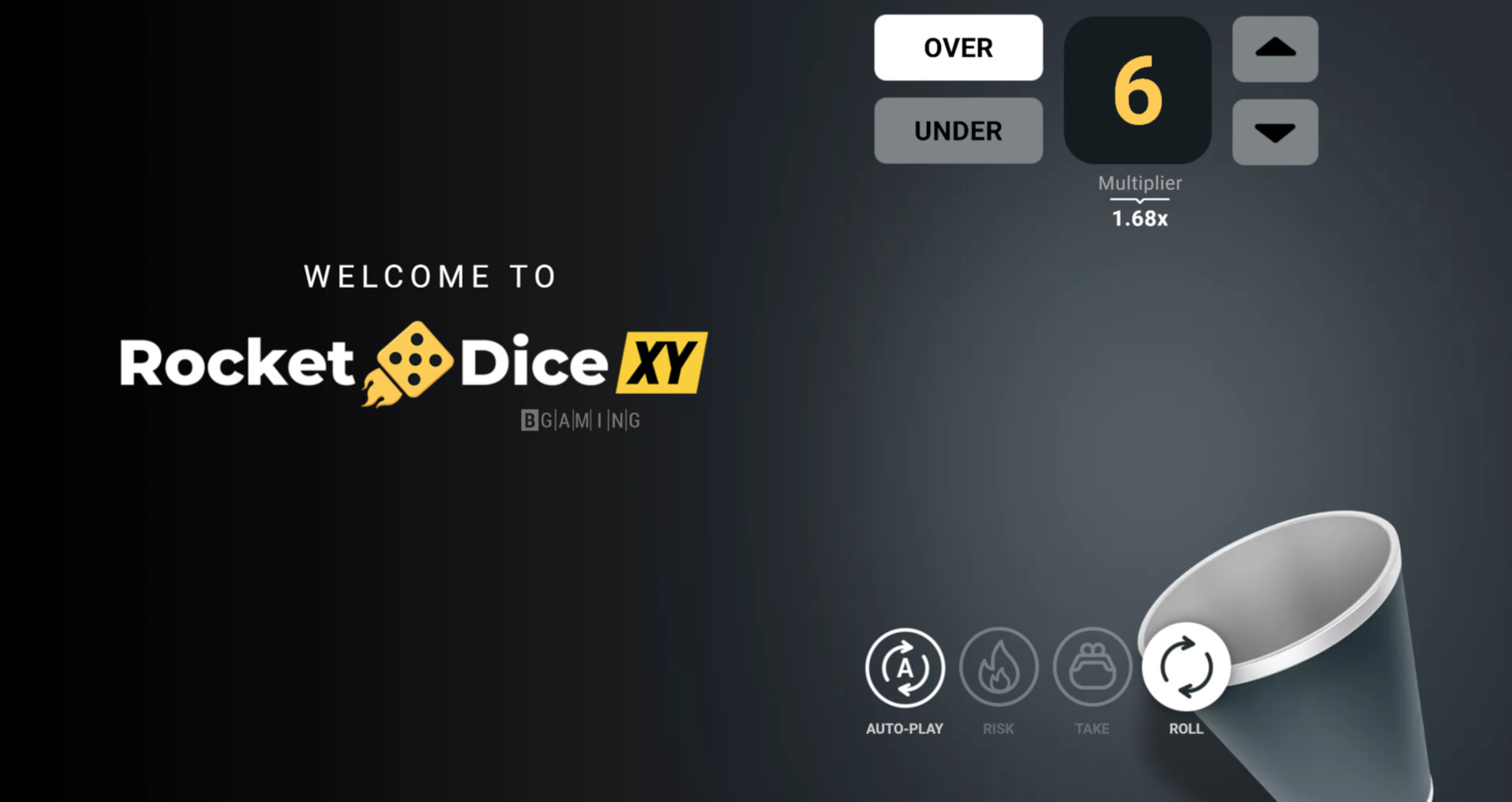 What is Rocket Dice?
Let's start with the basics and explain what Rocket Dice is. It is a game where a pair of dice are rolled, and you try to guess whether the total the dice pips will add up to will be over or under a certain amount.
If you guess correctly, then you win a payout. If you guess incorrectly, then you lose.
Where You Can Play Rocket Dice
Bovada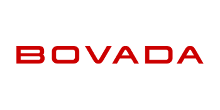 Bovada Sportsbook and Casino is one of the top US-facing websites for gambling, popular for its huge selection of games and betting markets as well as its reliable payouts and customer service. You can find Rocket Dice in Bovada's selection of table games.
When you sign up at Bovada, be sure to grab the $3,750 Welcome Bonus. There are also some other cool bonuses, contests and promotions available for players in the casino and poker room, including the Free Spin Bonanza, the Super Millions Poker Open 2023, $5K in Crypto (a Crypto Miner contest that runs monthly), and a 100% Poker Welcome Bonus. You also can earn rewards points through the Bovada Loyalty Program.
Cafe Casino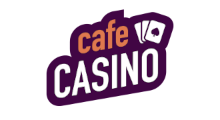 This is another online casino we have come to trust; we've had many years of great experiences working with them, and we appreciate their huge bonuses and diverse selection of games. Among those games is Rocket Dice.
Cafe Casino has a $2,500 Welcome Bonus. The site explains, "Your first deposit will be matched by 250% up to $1,500. But if you choose to fund your account using crypto, we'll go even further and match it by 350% up to $2,500."
Additional bonuses and promotions include the Crypto Exclusive, the Weekly Mystery Bonus and Hot Drop Jackpots. There is also a loyalty program called Cafe Casino Perks.
Not familiar with Hot Drop Jackpots? Find out all about these time-based slot jackpots here.
Slots.lv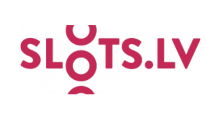 Slots.lv may be best known for its slot games, but it also has a large selection of table games for you to enjoy, Rocket Dice being among them. And if you thought the bonuses at our other recommended casinos were impressive, wait until you see what Slots.lv offers.
The Welcome Bonus offers at Slots.lv are truly massive. If you deposit using a card, you can receive up to $5,000 in Bonus Funds collectively across your first 9 deposits. If you deposit using crypto, you can receive up to $7,500 in Bonus Funds collectively across your first 9 deposits.
This site is another one that offers Hot Drop Jackpots. There is also the My Slots Rewards Program.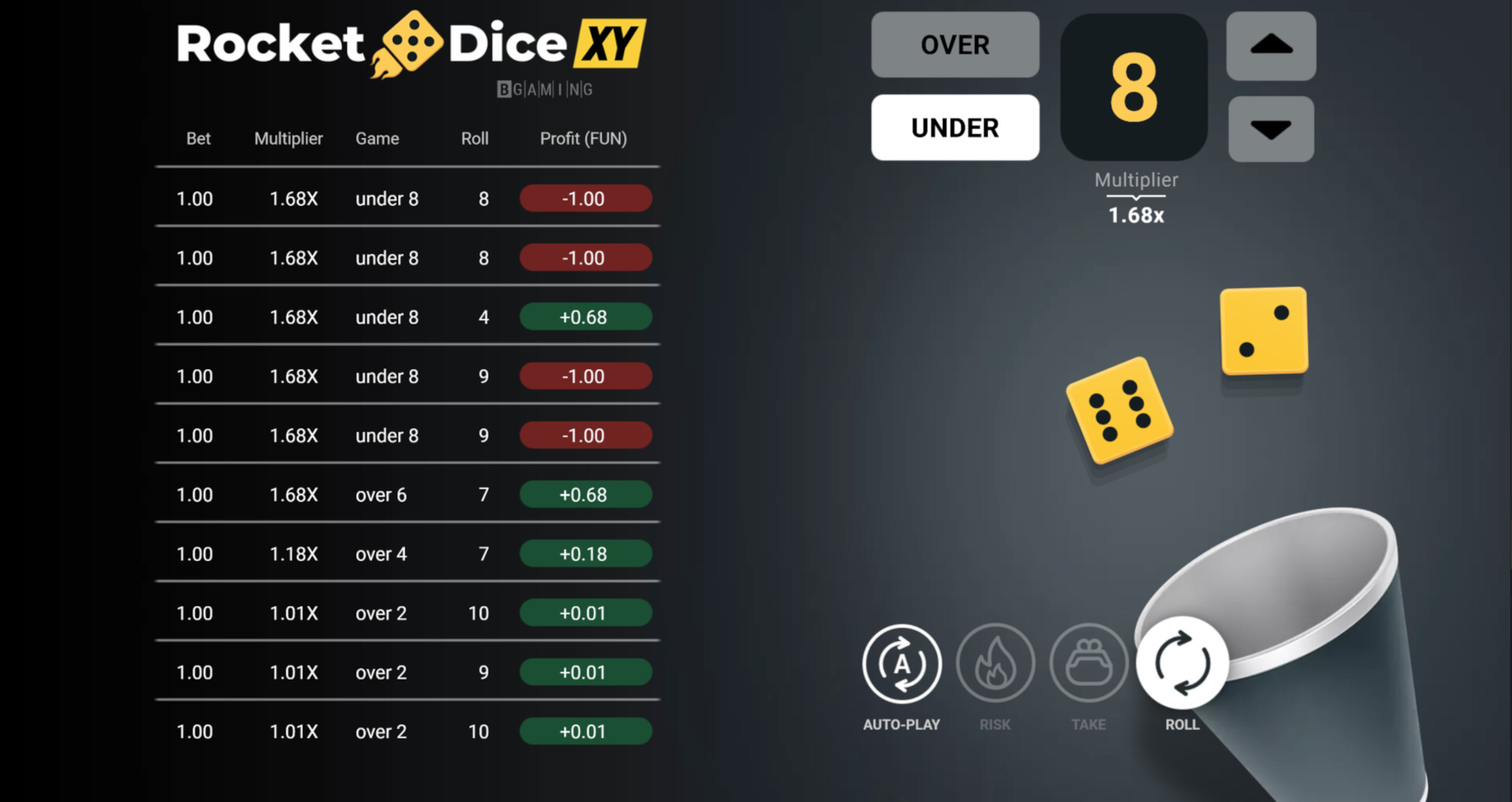 Why You Will Love Rocket Dice
Here are a few reasons to try Rocket Dice if you haven't played it before.
Learn in minutes:
Rocket Dice is a simple game. It is not intimidating or hard to learn. In fact, within a few minutes, you should have a pretty good idea how to play both the main game and the Risk mini-game.
Easy to play:
Playing Rocket Dice is easy, and does not involve much thinking or energy. You will not strain your brain playing this easy dice game.
Optional Risk game:
There is a mini-game called "Risk" that is part of Rocket Dice. But whether you play it or not is completely up to you. This makes it easy to customize your experience. You can add a bit of complexity with the Risk rounds, or you can just play the regular rounds.
Chance for large payouts:
If you do play the Risk game as part of Rocket Dice, you have the chance to double your potential payouts repeatedly. That means that in some situations, you might find yourself winning a lot of money.
Optimal strategy:
Even as a game of chance, Rocket Dice does have an optimal approach for extending your bankroll.
Relaxing:
You can get in the zone while playing Rocket Dice for a relaxing experience. It is perfect for unwinding after a challenging day, or after playing some casino games that involve more complex decision-making.
More variety in your table games:
Maybe you love dice games, but are tired of playing craps over and over again. Rocket Dice lets you vary your play a bit with a new dice game you will love right from the start.
Rocket Dice Rules
Let's go over the rules of Rocket Dice in detail.
The game uses two dice.
The player can choose an amount for the pips, and then bet whether the pips after the dice roll will be "over" or "under" that amount. The amount can range between 2 and 12.
There are multipliers that apply when players win their bets. The game displays these when the player is entering their bets.
A pay table determines the payouts the player receives upon winning.
An Auto Play mode is available.
There is also a feature called a "Risk Game." See below for more information on that!
The Risk Game becomes available if you win a roll. You can participate in it if you want, or skip it.
BGaming explains: "Risk game gives a chance of 50/50 to increase the amount of win by risking after every effective throw … At the beginning of the risk-round player must choose three of the six possible numbers … Once chosen click the Roll button or hit the cup to roll the dice. One dice participates in the roll comparing to regular round. If the value is the same as one of the chosen before – the player wins."
The rules continue, "In case of the winning, the main prize is increased (x2) and player has opportunity to risk and win again until reaching the max bet limit in the game. If you win, you can collect your winning amount or risk to increase it again. To collect your win and return to the main game, click Take button. If you lose, the risk game round will stop automatically and you will return to the main game."
The Rocket Dice Game Interface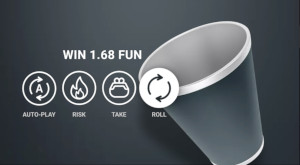 When you load Rocket Dice, here is what you will see on your screen:
Upper right corner:
Here you will see the number and the multiplier. This is where you can select the number and choose "over" or "under."
Upper left corner:
This is where you can see the results of your previous rolls. The game lists the bet amount, multiplier, your specific wager (i.e. "under 6" or "over 2" or whatever), the roll and the profit or loss.
Lower right:
Icons are here for Auto-Play, Risk, Take, and Roll. There is also an image of a cup that represents the metaphorical cup that the dice are in prior to rolling. It is clickable, and does the same thing as "Roll."
Below the icons in the lower right, you can input your bet amount. To the left of that, you can see your balance and the max bet.
In the upper right-hand corner at the very top, you will see a question mark you can click on to view the rules, and a sound on/off button.
The Risk Interface:
If you initiate a round of Risk, you will be taken to a new screen. Here is what you will see on it.
On the left side of the screen, right below where it says "Risk," you will see a set of six dice, with 1, 2, 3, 4, 5 and 6 as the pips. This is where you choose your 3 dice.
Below that, you can see the results of previous rolls.
Buttons below the previous rolls include Repeat, Invert, Even and Odd.
In the bottom right-hand corner of the screen are the "Roll" and "Take" buttons.
On the right side of the screen, you will see the amount you will get if you "Take" as well as the amount you could win if you roll again. These amounts are updated with every successful roll.
How to Play Rocket Dice
Now that you know your way around the Rocket Dice interface, you are ready to learn how to play.
You probably could piece it together just from what you have read so far, but we find it helpful when learning a new game to have simple step-by-step instructions.
Base Game
Load the game. While we shared the rules with you here, we suggest reading over the full official game rules before you play.
Select the number you want in the upper right-hand part of the screen. You can tap or click on the arrow buttons to increase or decrease the number.
Tap or click on "over" or "under" based on what you think the pips on the dice will add up to.
Either tap or click on the "Roll" button in the lower right-hand corner, or do the same with the cup. This will initiate the roll. You will see a brief animation of the dice rolling out of the cup and landing.
On the left, you will see the result of your roll, which will either be a profit or a loss.
If the roll is a loss, then simply repeat the actions above to continue playing.
If, however, the roll is a win, you can do either of two things:
One, repeat the steps above to roll again.
or…
Two, click on "Risk" to proceed to the Risk mini-game.
Risk Mini-Game
Look at the six dice on the left side of the screen. Choose any three of them. You are betting that the single die that is rolled will be one of the three you have selected.
Tap on the "Roll" button in the lower right-hand corner of the screen (or tap on the cup image). Watch the animation of the die rolling that follows.
If you lose the roll, the game will automatically return you to the previous screen, where you can then play the base game again.
But if you win the roll, you can either click on "Take" to accept the amount you have won and return to the previous screen, or you can select three dice again, and then once more click on "Roll."
You can use the Repeat, Invert, Even or Odd buttons as optional shortcuts if you want to use their selections.
You can keep repeating the Risk game every time that you win it if you desire.
Don't forget when you go to Bovada and make a deposit to use the code CAWELCOME100 to get that $1,000 Welcome Bonus!
And you may also have some interest in the game BitStarz Dice, so check out our BitStarz Dice 101 article!
How to Use the Auto-Play Feature
If you want to use the auto-play feature, you can click or tap on the "Auto-Play" button on the main screen.
This will bring up a box that extends around the existing options (what number you want and over/under), and adds some additional ones. You can select a specific number of rolls you want to do, or you can leave it on "unlimited." Then, you can set individual rules for what the Auto-Play feature will do if you win or lose.
Your options for both are to either return to your base bet, or increase the bet a specific percentage, which you can then enter. Clicking the plus and minus signs to either side of the roll count and percentages will allow you to increase or decrease those numbers as needed. Then push "Start" to begin auto-playing.
Is Rocket Dice a Game of Chance?
Yes, Rocket Dice is a game of chance. A random number generator (RNG) determines the outcome of every roll. Each roll is independent of the one previous and the one to follow. So, make sure you do not fall for the Gambler's Fallacy while playing this game. The game does not "remember" how many times a previous event occurred, even though it displays this information to you. You do not become "due for a win" after many losses.
Thankfully, there is a viable strategy you can use for Rocket Dice. But you are not focused on trying to control the outcomes using that strategy. You simply are working to minimize the house edge. We will share the strategy with you near the end of this guide.
What is the House Edge for Rocket Dice?
The house edge for Rocket Dice can range anywhere from 1.67% to 2.08%. It depends on whether you are playing with the optimal strategy or not (more on this in just a little bit).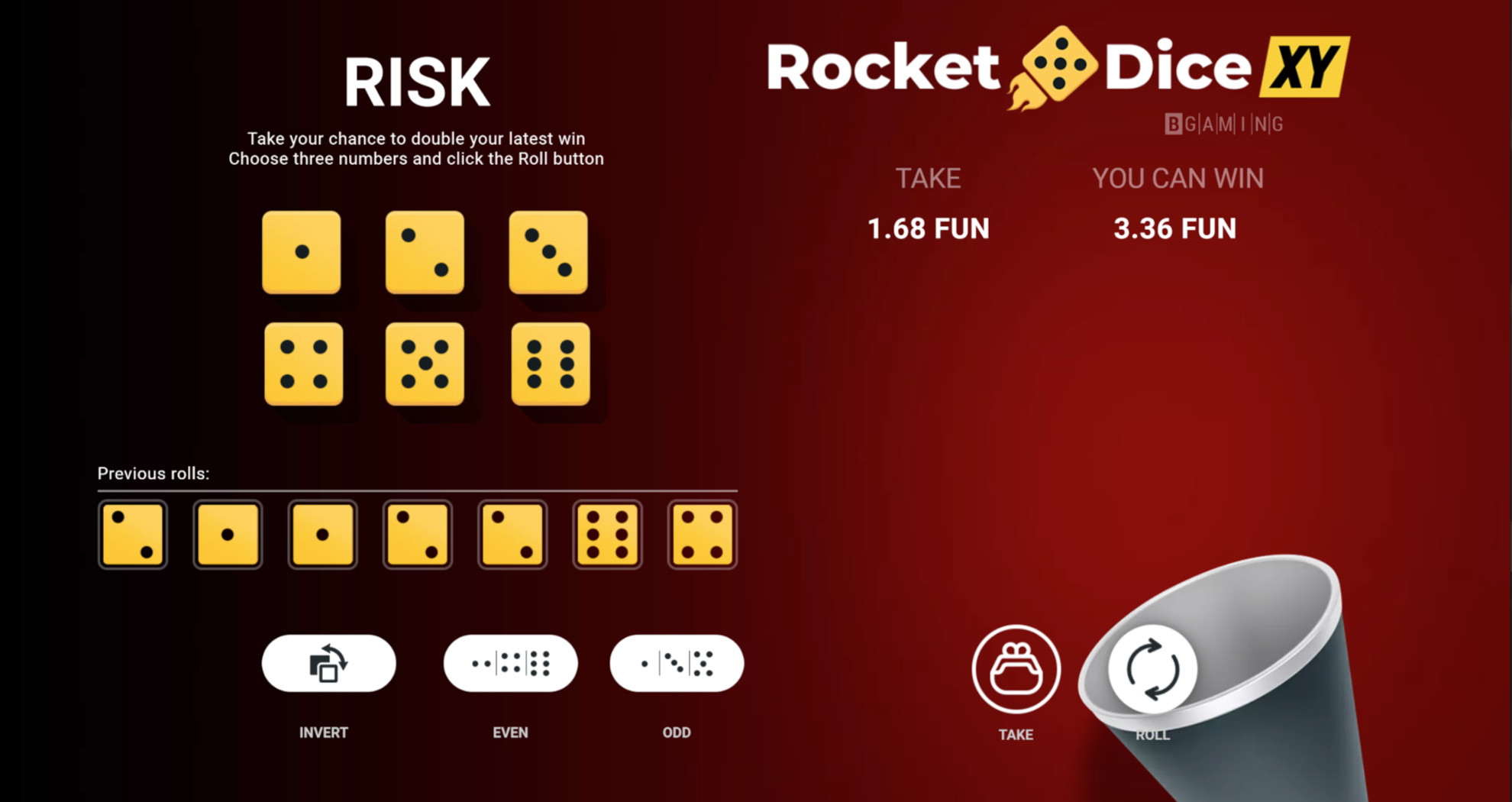 Rocket Dice Pay Table
For your quick reference, here is the pay table for the Rocket Dice game:
Total
Under Pays
Over Pays
3
35.3
1.07
4
11.8
1.18
5
5.88
1.36
6
3.53
1.68
7
2.35
2.35
8
1.68
3.53
9
1.36
5.88
10
1.18
11.8
11
1.07
35.3
Analysis Tables
Here are a couple of useful tables we found over at Wizard of Odds. The winning combinations you see in these tables are out of 36.
Total
Pays
Combinations
Probability
Return
3
35.3
1
0.027778
0.980556
4
11.8
3
0.083333
0.983333
5
5.88
6
0.166667
0.980000
6
3.35
10
0.277778
0.980556
7
2.35
15
0.416667
0.979167
8
1.68
21
0.583333
0.980000
9
1.36
26
0.722222
0.982222
10
1.18
30
0.833333
0.983333
11
1.07
33
0.916667
0.980833
Total
Pays
Combinations
Probability
Returns
3
1.07
33
0.916667
0.980833
4
1.18
30
0.833333
0.983333
5
1.36
26
0.722222
0.982222
6
1.68
21
0.583333
0.980000
7
2.35
15
0.416667
0.979167
8
3.53
10
0.277778
0.98556
9
5.88
6
0.166667
0.980000
10
11.8
3
0.83333
0.983333
11
35.3
1
0.027778
0.980556
What Strategy Can You Use to Play Rocket Dice?
Even though there is no way for you to influence how the dice will "land" in this game, there is still a way to play optimally!
Michael Shackleford at Wizard of Odds has provided a precise strategy to use to minimize the house edge when you are playing Rocket Dice. He writes, "On the initial roll, the best bet is a tie between under 4, over 4, under 10, and over 10, at an expected return of 98.33% each."
He also comments on the Risk Game, saying, "For the same reason I recommend taking the odds bet in craps, I would recommend making the double or nothing bet as many times as you are comfortable with. The more you double, the greater the combined return is."
Play Rocket Dice Now
Rocket Dice is a simple and fun table game that is easy to learn and play. If you are ready to give it a try, click on any of the links in this post to sign up for your account at one of our recommended online casinos. Claim your welcome offer, head to the table games section of the site, and try your luck at Rocket Dice and other exciting games!
And Before You Leave You'll Want To Check These Out As Well